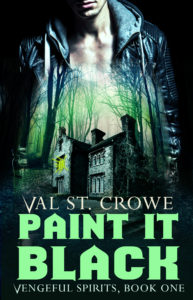 Desperately seeking some reliable reviewers.
What you get:
-Kindle versions of my books for free
What you do:
-Post a review on Amazon after you read it
Sign up here:
Here's what the first book you get is all about:
Sex kills. Don't you know the rules?
Deacon Garrison sees ghosts. He does his best to ignore them. Walks right through them and goes on with his day.
He'd ignore this one too, except it's attached to his best friend Wade, a guy who's closer to Deacon than family. Idiotically, Wade took a tour of the abandoned dorm Ridinger Hall, and now girls that Wade's slept with are dying. Yeah. When ghosts are involved, of course it's a bad idea to be doing anything between the sheets except quaking.
But now Deacon's got to face the supernatural. He's got to go into that falling-down dorm and find some way to end all this.
Ridinger Hall looms on the horizon, its windows peering down knowingly on the cracked sidewalk. Decrepit and foul, it keeps its own counsel. Its secrets gather with the cobwebs in its corners.
Something is lurking inside. Something is beckoning. Something is hungry.
Dear Reader,
You might like this if you like Supernatural, or you dug the flick It Follows. Or if you wish Ellie Jordan was as edgy as Jenny Pox. Or if you like your scares with a hefty side of hard drinking and sarcasm.
Rock on,
Val
Sign up: